Voice: Home Phone Service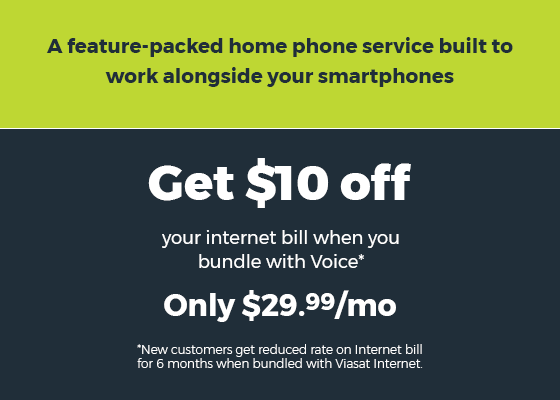 Why Voice is a great choice for home phone service
Get unlimited local and long distance calling to destinations in all 50 states, plus Canada
Enjoy great call quality plus voicemail, call waiting, caller ID and many other popular features
Save money over traditional landline phone service
Transfer your current phone number (in most cases) or get a new phone number — your choice
Use of Viasat Voice will not count towards your Viasat data allowance
Proven Technology
Voice uses "Voice over Internet Protocol" (VoIP) that has been specifically optimized for the Viasat satellite network. It's also the only VoIP service where calls don't count against your internet data allowance.
Getting started with Voice is as simple as connecting your phone or base station to the Viasat WiFi Modem with a phone cord. If you have an older Viasat modem, you'll need a Voice Adapter, included with the service.
Find Me, Follow Me
Advanced forwarding options to make sure you never miss an important call.
Built to Work Alongside Your Smartphones
Connect multiple cellphones to Voice and let one number do it all
Voicemail directs into your smartphone email for easy access
Send calls you don't want directly to voicemail, while important calls don't get missed